Note: Some of the links in this post may be affiliate links. This means if you click on the link and purchase an item, I will receive a commission at
no additional cost
to you. More details are
here
.
Overview: Do want your kids to do chores but aren't sure what tasks your child should be able handle? Check out this age appropriate chore list for children 9 years to 12 years
---
The older children get, the more helpful they should be to the family. If your children have been doing chores around the house since they were little, you are well aware of how beneficial this has been for your family at this point. At these ages, your kids can handle even more responsibility.
See below for an age-appropriate chore list for children 9 years to 12 years:
In Their Room
Change sheets and put dirty sheets in the hamper.
Complete responsibility for their rooms on a daily basis (make the bed; and put clothes, toys, and projects away; and straighten dresser drawers and closet)
Pack their own suitcase.
The Rest of the House
Assist in household projects/repairs (painting, etc.)
Clean the bathroom.
Cut flowers and make a centerpiece.
Do chores without a reminder.
Do more difficult cleaning projects (scrubbing kitchen floor, windows)
Do simple ironing.
Empty garbage pails in the house.
Feeding baby and younger siblings
Fold blankets.
Get own snacks
Help others with their work when asked.
Help prepare simple meals.
Help rearrange furniture. Help plan the layout.
Help wash the car.
Help with defrosting and cleaning the refrigerator.
Increased responsibilities for younger siblings (dressing infants/toddlers, entertaining them for longer periods, helping with school work)
Learn to wash dishes independently.
Make more complex meals/snacks (pour and make tea, coffee, and instant drinks, beginning meal planning).
More difficult cleaning projects (scrubbing floors, etc.)
Operate the washer and dryer.
Polish silverware, copper, or brass items.
Put away groceries
Put siblings to bed and dress them.
Run own bathwater.
Sew buttons and sew rips in seams.
Simple first aid.
Take care of younger siblings with a parent at home.
Wait on guests.
Wash and dry dishes or load/unload dishwasher.
In the Yard
Build a campfire.
Check and add oil to the car under supervision.
Clean patio furniture.
Clean pool and hot tub.
Clean up animal "messes" in the yard and house.
Cleaning yard
Gather wood for the fireplace.
Get items ready for BBQ (charcoal, hamburgers).
Help build things.
Help with car maintenance (help with minor repairs, learn tool usage, wash/wax).
Learn the purpose and usage of tools (lawn mower, hand tools, etc.)
Paint fence or shelves.
Pick fruit off of trees.
Rake leaves.
Take pet(s) for walks.
Unsupervised yard work (i.e., lawn mowing, edging, clean-up, gardening).
Away from Home
Cross streets unassisted
Do neighborhood chores.
Handle sums of money up to $5.00.
Responsible for a paper route.
Summer jobs (lawn mowing, dog sitting, babysitting, odd jobs for vacationers).
Etiquette
Answer telephone and take messages.
Help write simple letters.
Receive and answer own mail.
Write thank-you notes.
Also, be sure to check out our Age-Appropriate Chore Lists for other age groups as this list builds on those created for younger age groups.
I've also created a FREE, 15-page Chores Pack which is filled with chores list suggestions for the various age groups. It also contains several different chore chart templates to choose from. You can edit these chore charts online and then print them out. Or print blank copies first and then fill them in by hand. The choice is yours!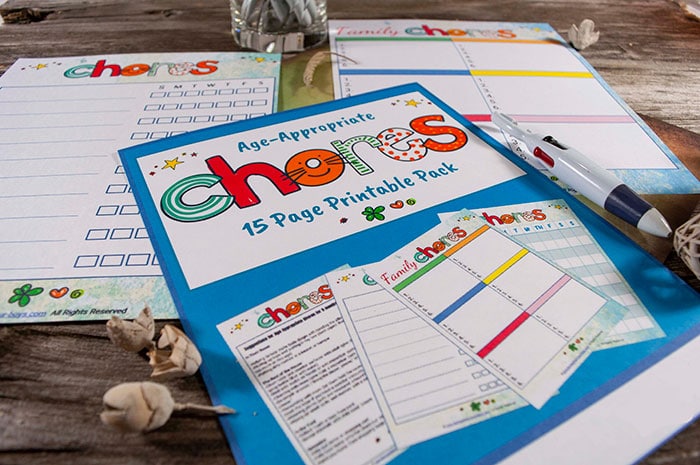 You can receive access to this FREE chore pack by subscribing below.
Question: How about you? What chores have you been able to give your child? How has giving your child chores helped to build their character? Please leave a comment below.