Is it possible to prepare for the holidays without all of the stress? Some of the biggest holidays of the year are upon us. I always look forward to the time between Thanksgiving and New Years.  I get huge expectations in my mind of all of the magical memories I can create for my family.  I enjoy the traditions we've already established. The holiday season can cause me to be filled with joy and peace and love.
But I've also had plenty of years when I was depressed, overwhelmed, and downright CRANKY over the holiday season.
Fortunately, as I've aged matured, I've learned a few tricks which have helped me to better enjoy this time of year and to be way less stressed.
Here are 5 Ways to Prepare for the Holidays Without Losing Your Mind:
1 – Make a list
Whenever I feel overwhelmed, it always helps me to make a list. Sometimes, just trying to remember it all is what is causing the stress. Just write it down. From there, it's easier to prioritize each item. It's also easier to see what needs to be delegated to someone else in the family.
2 – Prepare what you can in advance
Rather than waiting until Christmas Eve to try to get everything done, spread all of your duties out over the coming month. Cookies can be baked in advance and frozen, if necessary. Presents can be wrapped as soon as they're purchased and extended family gifts can be wrapped by the kids. Do everything you possibly can as early as you can so that you can relax and enjoy your efforts as Christmas gets closer.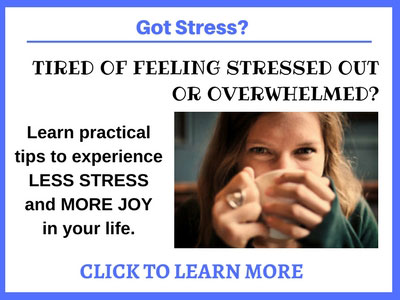 3 – Schedule stuff on a calendar
Print out a December calendar and use that to figure out when to do each task. I put everything on my calendar from going to view Christmas light displays, to when to watch special Christmas movies, to making Christmas cookies, and more. If it's important, get it on the calendar. I know I feel much more relaxed once I know when everything will be taking place. This also helps me to know that the various traditions that I hold dear won't slip through the cracks.
4 – Don't take on more than you are able
Your list and your calendar will help you to have a more accurate picture of all of your responsibilities and whether or not you have the time to commit to anything further. It's easy to get overwhelmed this time of year. It's also common to be guilted into doing more than you can handle. Learn to say "no." Prioritize what is important and be prepared to let go of the rest. You can't do it all!
5 – Delegate
Let your kids help make Christmas cookies. Ask your spouse to help wrap gifts. Look at your list and identify anything that you could either use help with or that you could have someone else do entirely. This is a great time of year for the kids to learn lots of new skills. It not only helps to lighten your load, but it also makes everything more special when you're working on it together. If you aren't used to delegating, realize that it may actually take LONGER for you to teach your kids how to help out. It's worth making this investment in your kids, however. Each subsequent year will become easier as your kids are able to do more and more on their own.
If you are an organized person, you may already take some or all of the above steps. If you are a more spontaneous person, you might think that these steps are overkill and you don't want to take the time to do all of this preparation. I would suggest you give at least a few of these tips a try.
Being more carefree during certain parts of the year is great. But this time of year, there are so many responsibilities that if you aren't careful you can end up dreading the holiday season. Feeling overwhelmed is no fun for anyone! As you prepare for the holidays this year, remember that with just a little bit of planning and preparation, you may find that the Thanksgiving-Christmas-New Year's holidays become some of your favorites!
Question: Are you a planner or do you prefer to be more spontaneous? Do you have any other organizational tips you've discovered which you could share? Please leave a comment below.