Note: Some of the links in this post may be affiliate links. This means if you click on the link and purchase an item, I will receive a commission at
no additional cost
to you. More details are
here
.
Last night I was sitting at the picnic table in our backyard, waiting for our dog to do his business. It had been a long day and I was very tired. As I sat there, I felt my shoulders sagging and my head drooping down.
After sitting that way for several minutes, a bird flew overhead and got my attention. As I turned around I gasped. There was a beautiful sunset taking place behind me. A flock of geese was flying into the bright orange sky and it was all taking place in front of the lovely barn and alfalfa field next door. I had been so focused on waiting out the mundane matter before me that I had almost missed the stunning scene which was taking place all around me.
As I watched the beautiful scene, I couldn't help but compare it to our homeschool experience. Could it be that sometimes I'm so focused on choosing the right curriculum, creating lesson plans, and crafting other details of our day that I fail to sit back and enjoy the splendor of the experience?
Are We Focused on the Right Things?
I think we do this all too often. As homeschool moms, we are surrounded by our children on a daily basis. Sometimes the chaos of the never-ending demands, the quarreling, the whining, and the unceasing questions can cause us to forget the amazing blessings that we have in our children. We get discouraged. We can focus on the harder, more negative parts of our lives and fail to recognize the treasures which are all around us.
We have entered a time in our home where we are starting to deal with some preteen hormones and conflict. This has recently caused quite a strain on the relationship between myself and my oldest son. I find myself feeling just as impatient and frustrated with his behavior as he seems to be feeling with me. There are days when I question my desire to continue homeschooling him. I figure that if he doesn't want to listen to me anymore, wouldn't it be easier to just ship him off to school and let someone else deal with him?
Then I catch a glimpse of this same son in an old home movie. I see his sweet little face and his smiles and it almost takes my breath away reminding me of the love I have for this child. I miss that little guy sometimes. He can even be a little bit naughty in the movie and it just makes me snicker. It doesn't make me as drop-down angry as I seem to get with him nowadays.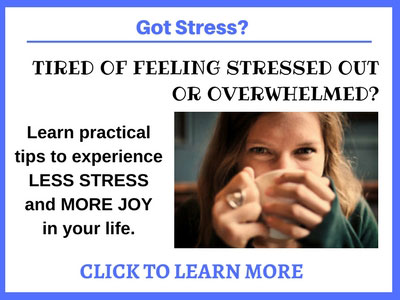 And, it's even more telling when I see myself in those same old home movies. I'm so encouraging to my little son. I'm so eager to see the new things he's learning. So quick to compliment him and cheer for him when he masters even the most basic skills. When is the last time I've cheered for my son (other than at sporting events?) When is the last time I was eager to come look at something he had created or accomplished?
I think I've been way too busy focusing on the wrong things. Yes, it's important to plan and to prepare – but it's also important to enjoy my boys throughout the day. I may have my lessons ready to teach but is my attitude prepared? I want my boys to enjoy learning but am I enjoying teaching? I will be pondering these important questions as I continue to prepare myself for the coming homeschool year.
So, if you've discovered that you've been focusing on the wrong things, what can you do to get back on track?
Here are 4 ways to get your focus back where it should be:
1 – Ask God to help you
Whenever we find ourselves lacking, our first thought should be to ask God for help.  I confess that this isn't always the first thing I think of doing.  Sometimes it's down the line after I've completely come to the end of myself.  I make it so much harder on myself because of my unwillingness to lay my burdens at Jesus's feet right away.
God is ready and willing to give us the strength, the wisdom, and the patience to not only live our lives but to live them abundantly.  John 10:10 says, "The thief comes only to steal and kill and destroy. I came that they may have life and have it abundantly."  Satan wants to keep us focused on the petty and the disappointing things in our lives.  When we find that we're focusing on these things, we would be wise to go to God right away and ask him for the help we need.
2 – Have accountability 
It's so helpful to have trusted friends and family members who are not only willing to listen but who are also willing to tell us what we need to hear.  Not just what we WANT to hear but what we NEED to hear.  Try to find one or two close accountability partners with whom you can be completely honest.
If possible, try to find people who will temper their honesty with kindness.  We're usually hard enough on ourselves – we don't need others who are eager to hit us over the head with our flaws.  Or people who think we're defective if we aren't carbon copies of themselves.
3 – Reminders 
If you find your mind thinking about things in a way you know isn't healthy or best, it's good to post reminders for yourself wherever you look on a regular basis.  I have a small spiral notepad that I keep in my kitchen window above my sink which contains my favorite, encouraging Bible verses.  I have also posted quotes and reminders for myself on the wall above my computer monitor.  It's amazing how often I catch myself glancing at these things and getting my thoughts back in check.
4 – Give Yourself Grace
Remember that you aren't going to be able to form this new habit immediately.  Knowing you need to start shifting your focus is an excellent start.  But you will have setbacks.  When you find yourself focusing on the wrong things again, don't beat yourself up or become discouraged.  Simply resolve to start again.
It can be easy to let ourselves get caught up in the negative aspects of life – for ourselves and for our kids. This year, I want to be my boys' cheerleader as well as their teacher. This year, I want to focus on what's truly important. This year could be the best homeschool year we've ever had if I am able to remember the joy of being a mom to my boys and am able to let go of some of the sorrows. I'm truly excited for this year to begin. No one ever said that homeschooling boys would be easy; but, if I can successfully keep the important things in focus, it will be a more joyful journey.
Question:  Are you focused on the right things?  What distractions have caused you to miss what's really important in life?  Please leave a comment below.