Homeschooling our kids is an amazing experience. We have the joy of seeing our precious children learn how to read. We get to see the spark of excitement in their eyes when they finally figure out a difficult concept. We enjoy spending hours of time with our kids – more than most parents even dream about. Yes, homeschooling is an amazing blessing! It can also be all encompassing. If we aren't careful, we often end up losing ourselves along the way.
We've all heard the flight attendant tell us to put on our own oxygen mask first and then to help others around us. We've also heard our pastors tell us that we should be serving people out of the overflow of our own hearts. As moms, however, this advice doesn't seem very practical.
How in the world are we supposed to take care of ourselves first?
When our babies are crying for us in the middle of the night, there isn't time to think about what we need.
When our kids are calling for us to help them with their reading, we don't feel that we can REMEMBER our own thoughts let alone entertain them.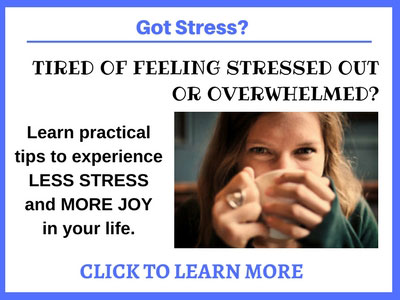 Let's face it – being a mom who homeschools is a demanding job. We are on the frontlines of parenting without natural built-in breaks from thinking about our kiddos. We're together 24/7 which is a GOOD thing.  But it can also be draining if we aren't careful.
No matter what phase of life we are in, we must find ways to make time for ourselves.
I know that I am guilty of not doing this. I wake up with my husband each morning and make his breakfast, his lunch, his coffee, and do everything else I possibly can to make it easy for him to get out the door to work.
Then, I start picking up around the house, making breakfast for myself and my boys, doing laundry, and looking over their homeschool lessons for the day.
And if I'm not busy serving my family, then I feel that I should be on my computer answering emails, interacting on social media, creating inspiring memes, writing blog posts, and working on various other new projects for my readers. My days are busy!
These are all things that I want to do.
However, when days, weeks, and months will go by without me having spent any time focusing on myself, I start to feel tired and less energetic than I would otherwise be. My sweet husband usually recognizes this first and starts suggesting things to me such as taking a bubble bath, spending time with my sisters, doing some genealogy research, or just getting out of the house by myself.
My first thought is usually that I don't have time to do any of those things. But when I do take his advice, I find that I'm much more energized, joyful, and eager to tackle the rest of my responsibilities.
So, how in the world are us moms supposed to be able to focus on ourselves?
Here are 7 Ways for Homeschool Moms to Put the "I" Back into Priorities:
1 – Take Care of Yourself
The most important aspect of taking care of yourself is to make sure you're spending time with God on a regular basis. God will give you the strength you need to be your best. Without His help, there's only so much that we can do on our own.
You also need to be sure you're taking care of your body. Are you eating healthy foods? Do you exercise on a regular basis? I'm not saying you need to train for a marathon unless that's something you enjoy. But are you moving around enough to be healthy? It's important to take proper care of our bodies or we'll be tired all the time.
2 – Learn to Say No
Being over-committed is a huge problem. We all need to learn how to say "no" sometimes. Before committing to anything new, be sure to pray about it, discuss it with your husband, and think it over. Never say yes to anything on the spur of the moment.
3 – Schedule Time for Yourself
If you don't schedule time for yourself it will never happen. This is important to do no matter what age your kids are. If you have young kids, try to coordinate their naps so that you can have some time for yourself while they're sleeping. Or have your husband watch kids occasionally so you can get away for a few hours at night or on the weekend. Or consider swapping kids with another stay-at-home mom for an afternoon once a month.
If you have older kids who capable of staying home alone, then consider taking a walk by yourself every now and then. Get out of the house to do some errands on your own – or to have lunch with a friend. And no matter what age your kids are, you might want to consider getting up before they do in the mornings.Try getting up an hour earlier than you currently do. It's amazing how good it feels to be able to do a few things before the kids wake up. By the way, you don't need to suddenly start getting up three hours earlier. You can do it more gradually so it isn't such a shock to your system.
4 – Ask For Help
We can't do it all! Don't expect people to read your mind, though. You need to learn to ask for help. This isn't a sign of weakness – it's a necessity. Husbands, grandparents, friends, and other moms in the neighborhood or at church are usually happy to take some of the load off if we're willing to be honest about what would be helpful.
5 – Delegate
If you haven't already, get your kids doing chores. There's way too much work in running a household for you to try to do it all yourself. By the way, don't get discouraged if your sons don't look around to see what needs to be done on their own. Just tell them what you need them to do. Also, they will probably need reminders and that's alright. You can even add their chores to their school lists for each day and have them check off items before they get any electronics time (or whatever else they really enjoy doing.)
What do YOU enjoy doing? What will put a smile back on YOUR face? Would you like to paint a picture? Read a book for pleasure? Take a trip to the beach? Make a list in advance so that when the opportunity presents itself you won't draw a blank.
7 – Make Goals for Yourself
We have lots of homeschooling goals and plans for our kids. We even help our kids to make goals. But do we have any personal goals for ourselves? Do you have hopes and dreams that don't necessarily involve your husband or kids? Would you like to take a class, go on a Women's Retreat with the ladies from church, or do some other activity which will help you to improve your mind or body?
If we start taking care of ourselves properly, we will find that everyone around us will also benefit. Make sure you're putting yourself on your priority list so that you will have the energy and the desire to take care of those around you.
Question: Are you on your own priority list? How do you find the time to take care of yourself? Please let me know in the comments below.