Are you stressed out, homeschool mom? Why are homeschool moms so hard on ourselves? We expect to be able to give our kids a world-class education, maintain an immaculate house, cook delicious and well-balanced meals, do the laundry, keep the kids in cute clothes without spending a dime, do all of the family scheduling, be the family chauffeur, volunteer at a homeschool co-op, and sometimes even work a side job all at the same time.
But when one of the many things we're trying to juggle gets forgotten for awhile or isn't done up to our own standards, we don't offer ourselves forgiveness or understanding. Instead, we have conversations with ourselves about how unworthy or lazy we are. How in the world do we think we'll be able to be kind, compassionate, and patient with our husbands and our kids when we can't even do it for ourselves?
You Are Not Alone
You are not the only one who is hiding in the bathroom crying into a Kleenex.
You are not the only one who is shoving chocolate into your mouth to try to ease the stress.
You are not the only one who is wondering if you're doing it all wrong.
As moms who have chosen to homeschool our children, we have a lot of responsibility on our shoulders. We have all of the normal pressures of parenting on top of the added tasks of educating our kids. We get to experience the thrill of victory when our kids learn how to do something new but we also feel the weight of the pressure of providing our kids with a unique and thorough educational experience. And in the midst of it all, most of us struggle at times with asking ourselves if we're doing enough.
Are you stressed out, homeschool mom?!?
If so, you are not alone. Most of us feel overwhelmed at times. But fortunately, we don't have to stay that way. If you are struggling with the pressures of being a stay-at-home mom or of homeschooling, then I urge you to check out my brand new video course called Your Path to Feeling Less Stressed.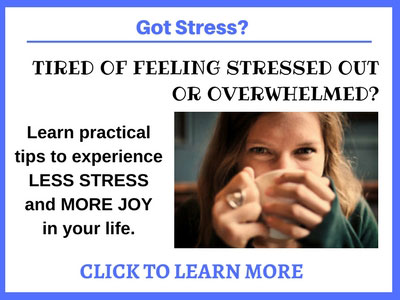 As a mom to two teenaged sons, I know what it feels like to experience lots of pressure. To feel unable to handle everything that is expected of us. To be tired. To not have any relief in sight.
But after being a parent for over 17 years, I have also learned some practical ways to feel less stressed and to experience more joy in my life. And I can't wait to share these tips with you.
Why This Course?
Honestly, before I started creating this course I was kicking and screaming a bit. Over the years, I had asked moms many times what their biggest struggles were and kept hearing about how the feelings of stress and overwhelm were what was holding them back from experiencing joy. But I certainly didn't feel qualified to help in that area. I mean, who in their right mind would think that they could help anyone else to feel less stress in their life?!?
But then, God brought many experiences and lessons and verses to mind which all came together to form the basis for the lessons in Your Path to Feeling Less Stressed.
Rather than being a course filled with a lot of rigid steps to follow, it is more of a guide to help you discover what causes YOU to feel stressed out and to help you take the steps that YOU feel you need to take in order to experience more peace and joy in your life.
Believe me, you are not alone. You aren't the only one to experience the difficult moments of being a mom and to wonder how in the world you're going to do all of the things which are expected of you.
Who This Course Is For
Stay-at-home moms who either homeschool their kids or who have small children at home
Moms who feel that they aren't responding to stress as well as they would like
Moms who want to experience more joy in their parenting journey
How it Works
Your Path to Feeling Less Stressed is a self-paced video course which is designed for you to take over the span of approximately 3 weeks. Each day that you are able, you will watch the video lesson and then you will complete the daily course correction. It's flexible so if you need to skip a day here and there, that's completely fine. Just pick up where you left off as soon as you're ready. These lessons are filled with practical ways for you to have a better response to the stress in your life and to take control of whatever circumstances you are currently facing so you may find that the busier you are the more you will WANT to make the time for the lessons.
Each student will receive the following:
16 video lessons
A 76 page PDF workbook which contains notes pages for the video lessons, worksheets to help you apply what you're learning to your life, and journal pages where you can record your thoughts as well as the progress and insights you have throughout the course.
Discussion areas where you can ask me questions and/or communicate with the other course members.
This course is your opportunity to go on a journey of self-discovery to identify your unique stress triggers and to learn ways to feel more centered and at peace with your life. If you're interested in finding out more, I encourage you to check the course out. The first lesson is FREE! Hopefully, that will give you a better idea if Your Path to Feeling Less Stressed is right for you.
I hope and pray that the material in this course will give you the encouragement and the tips you need to make some important adjustments to the way you respond to stress. And believe me, those small changes can make all the difference for you and for those you love.