Toddlers are capable of so much more than we give them credit for. You will be amazed at how quickly children will want to start helping out around the house, especially if they are helping their parents or an older sibling. No matter what you're doing, try to find lots of ways that your toddlers can get involved.
See the below age-appropriate chores list for children 9 months to 24 months to get some ideas:
In Their Room
Beginning to help make beds – (begins with handing the pillows to mom until later.)
Picking up toys and putting in the toy box (don't really expect them to sort and organize too much at this age)
Putting dirty clothes in a basket/hamper.
The Rest of the House
Clean table and counter surfaces with an adult (give the child a small towel and water spray bottle.)
Cleaning with mom (give the child a dust rag, child size broom, empty spray bottle for "pretend" cleaning.)
Do simple errands ("Bring the diaper, please", "Throw this in the trash, please," etc.)
Vacuuming with mom – let them hold onto vacuum while you push, or direct the hose if you have a canister vacuum.
Watering plants (with pre-measured amounts!)
Wiping up small spills and messes with a napkin or washcloth.
→ Related Content: 10 Simple Chore Tips that will Transform Your Family
In the Yard
Clean yard (collect trash and toys, sweep with child size broom etc.)
Away From Home
Simple help with groceries, such as: putting items in shopping cart, helping put items on the check-out conveyor, handing items to you to be put away at home.
You will also want to check out my Age Appropriate Chore Lists for other age groups.
I've also created a FREE, 15-page Chores Pack which is filled with chores list suggestions for the various age groups. It also contains several different chore chart templates to choose from. You can edit these chore charts online and then print them out. Or print blank copies first and then fill them in by hand. The choice is yours!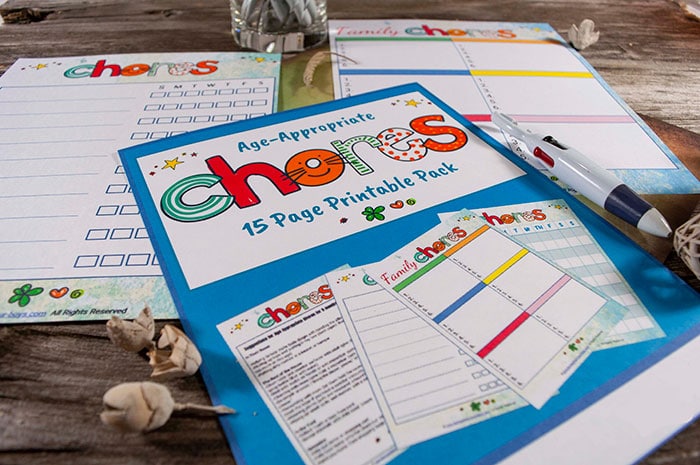 You can receive access to this FREE chore pack by subscribing below.
Question: How about you? What chores have you been able to give your toddler? How has giving your child chores helped to build their character? Please leave a comment below.