Overview: Do want your kids to do chores but aren't sure which tasks your child could handle? Check out this age appropriate chore list for children 2 years to 3 years!
---
You might think that it's way too early to ask your 2 or 3-year-old to do chores. But at this age, children can really start to become helpful around the house. The earlier they start doing chores, the earlier they will be able to master these tasks. And the best part is that kids this age are actually eager to help you with anything, which isn't always the case when they get older.
See below for an age-appropriate chore list for children 2 years to 3 years:
In Their Room
Hang clothes on hooks.
Help make the bed (pull covers up).
Picking up toys and books, beginning skills of learning to put items in their proper place
Put clothes into the hamper.
Pick up their bedroom.
Undress and dress self with some help.
The Rest of the House
Brush teeth (may need assistance)
Carry groceries in from the car (give the child one light item or a small bag).
Carry boxed or canned goods from the grocery sacks to the proper shelf.
Clean up what they drop after eating.
Cleaning up after himself/herself after meals (i.e. taking dishes to sink, helping clean off the table)
Do simple errands ("Take this towel and put it in the hamper", etc.).
Dust with socks on their hands or by holding a cloth.
Empty bathroom trash cans.
Fill the pet's food dish.
Fix a bowl of cereal – will need help with the milk.
Help pick up the living room.
Help set the table (put utensils and napkins on the table).
Help wipe up messes.
Help with meal preparations (learn to measure, stir and use small appliances).
Helping with laundry, such as: helping sort dirty clothes by color, handing the clothes to mom to put in the washer, transferring clothes from the dryer into a laundry basket, folding the socks and washcloths.
Mop in areas with help.
Pour from a small pitcher with help.
Put away clean utensils.
Put books and magazines on a rack/shelf.
Putting shoe/coat in their proper place
Slightly more complicated errands (continue to use easy directions), such as: "throw these clothes into the hamper", "put this dirty cup in the sink". The child should be able to attempt a chore when asked to.
Take laundry to the laundry room.
Wash and dry hands and face
Water plants.
In the Yard
Bring in the newspaper.
Clean yard (collect trash and toys, sweep with child size broom etc.).
Get the mail.
Help clean out the car.
Help wash the car.
→ Related Content: 10 Simple Chore Tips that will Transform Your Family
Away from Home
Simple help with groceries, such as: putting items in shopping cart, helping put items on the check-out conveyor, handing items to you to be put away at home.
Beginning Etiquette
Make thank you and birthday cards.
You'll also want to check out my Age Appropriate Chore Lists for other age groups as this list builds upon the ones created for younger age groups.
I've also created a FREE, 15-page Chores Pack which is filled with chores list suggestions for the various age groups. It also contains several different chore chart templates to choose from. You can edit these chore charts online and then print them out. Or print blank copies first and then fill them in by hand. The choice is yours!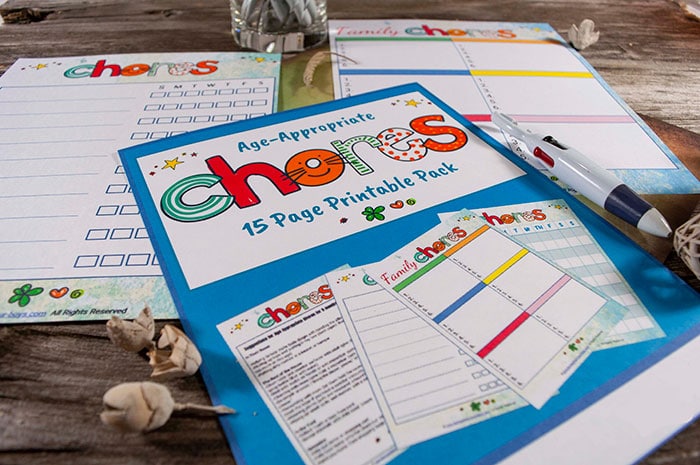 You can receive access to this FREE chore pack by subscribing below.
Question: How about you? What types of chores have your toddlers been able to successfully tackle? How has giving your child chores helped to build their character? Please leave a comment below.