Overview: Homeschooling is a fast-growing trend. Keeping your kids out of public schools can be intimidating. Check out my tips for how to start homeschooling.
---
I hear from people all the time asking me how they can pull their children out of school and start homeschooling. Unfortunately, I'm not surprised by how frequently I am asked this question. School classrooms are typically set up to provide optimal learning conditions for girls, rather than boys. Most boys benefit from being more active than the typical schoolroom allows.
Not to mention all of the new confusion, the concern about illness, the disdain of virtual learning, and so many other new issues that have cropped up in 2020. Record numbers of parents are now looking into homeschooling who would never have dreamed of doing so before.
All children have the opportunity to thrive when they are educated at home. Boys do really well in the homeschool environment because they end up with lots of time to run around and get out their extra energy and to explore their interests. Plus, they don't have hours of additional homework at night, which is really helpful for the whole family. You can use that time to play games with each other, talk, and really get to know your sons. It's wonderful!
If you're asking yourself, "How do I start homeschooling?" you are in the right place. Here are some helpful tips to get you headed in the right direction:
Step One – Research the Homeschool Laws in Your State/Country
Homeschooling is legal in every state in the U.S. as well as in many other places around the world. The tricky thing is that the laws vary greatly from place to place. It's important for you to research and comply with the laws in your area.
If you are in the United States or in one of the U.S. Territories, you can find out about your local laws by going to the Homeschool Legal Defense Association's website. Hopefully, the state you live in is green or yellow so that you don't have too many hoops to jump through. Although, I've talked to homeschoolers in high regulation states and they feel that they're also able to enjoy quite a bit of freedom while homeschooling. So don't despair even if your state is red.
If you live outside of the United States, HSLDA has information about the homeschool laws in many international locations as well.
In my state of Michigan, if we start homeschooling our children from the very beginning, we don't even have to notify our school district of our intent. If we are pulling our children out of public school, then the notification requirements are still minimal.
It can be intimidating thinking about completing this step because it basically commits us to become homeschoolers – at least for now. But many parents decide year to year whether they will continue homeschooling or put their kids back into school. Try not to get too overwhelmed. You'll feel so much better once you get this put behind you. Fulfill the requirements of your state and move on to step two.
Step Two – Choose a Curriculum
We are so fortunate these days that there are a plethora of curriculum options out there for homeschoolers. There are so many different products with different strengths and amounts of hands-on learning from which to choose. The important thing to remember is that just because you decided to try a publisher this year, that doesn't mean you need to continue using it throughout your entire homeschooling experience.
Every year you will want to take a step back and evaluate the curriculum you've been using. Ask yourself how it has been working for you and your children? Were there enough hands-on activities to keep the enjoyment in your boys' learning?
Some parents who are new to homeschooling have concerns that they will be able to work with each of their children individually to provide for their educational needs. I want to assure you that you certainly can work with your children and meet them where they're at even if they are vastly different.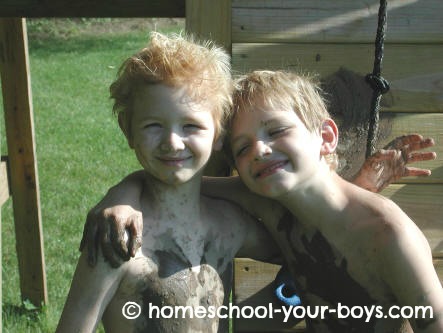 It can seem intimidating but remember that homeschooling doesn't take anywhere near as long as educating kids in a classroom because we're able to work 1-on-1 with each child rather than trying to manage 20-30 kids at a time as do teachers in classrooms. And when our children are young, 2-3 hours a day is more than enough for them to get through all of their studies.
Plus, quite a lot of subjects can be done together – especially if your kids are close in age. My sons are 15 months apart so I always taught science, history, and Bible together. My sons completed reading and math at their own pace, however they usually sat in on each other's lessons. And my younger son always learned things at a younger age because of that.
Remember that homeschooling isn't the same as "school at home". You don't have to try to replicate the school down the street. It should be more a lifestyle filled with learning.
Step Three – Get Organized
Look over the entire year of the curriculum to determine what materials you will need to acquire that you wouldn't normally have around the house. Then, every week, take a look at the next week's lessons to get the schoolwork organized and ready for your child to perform.
This sounds harder than it is. Simply familiarize yourself with the teacher's manuals, gather the necessary materials, and you're all set. I always put each day's assignments into separate folders to make daily preparation quick and simple. That way I can get each day's lessons ready over the weekend and just switch folders each morning before we begin.
I have written a thorough blog post which has step-by-step videos detailing my Realistic Homeschool Planning Method if you'd like further details in this area.
Step Four – Set Up Your Area
You do NOT need a separate classroom available in order to homeschool although some people choose to have one. My sons do their schoolwork at the dining room table, on the living room floor, standing in the kitchen, wandering around outside, and while sitting on the couch. You may want to get your child a clipboard so that they can take their assignments wherever they feel most comfortable. When the weather is nice it is fun to do assignments at a picnic table outside or letting them going into a tree fort to complete their reading. Think outside of the box!
If you don't have a dedicated classroom space, it is extremely helpful to have a spot where you will store your materials so that they aren't spread all over the dining room table day after day. Our family makes good use of those plastic filing cabinets, expanding file folders, and/ a school supplies caddy that you can get from most stores because they're cheap.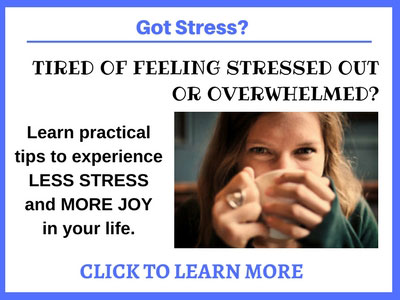 Step Five – Get Started
You may want to check out a homeschooling support group in your area. There are also many organizations that provide field trips, sports, and many other learning opportunities for homeschooled children.
I would also recommend spending some time reading aloud to your children every day! I learned that it was best to start out with this time while my sons were eating breakfast. It was a nice, gentle way to start our day. Plus, it ensured that we didn't get so wrapped up in the other lessons that we would run out of time and be tempted to skip it.
With these tips in mind, you should be able to start homeschooling your children with minimal stress. Have fun and enjoy this wonderful time that you will be able to spend with your children. Remember, your lack of formal training as a teacher will be more than made up for by your love for your kids and your desire to see them excel to their full and unique potential.
Question: Do you have any other questions about how to start homeschooling? Please leave a comment below.