Note: Some of the links in this post may be affiliate links. This means if you click on the link and purchase an item, I will receive a commission at
no additional cost
to you. More details are
here
.
Overview: Do want your kids to do chores but aren't sure which tasks your child could handle? Here's an age appropriate chore list for children 4 years to 5 years!
---
You thought they were helpful before! At this age, children really start to pull their own weight around the house. You will notice that they're able to do a more thorough job and are able to do things even more independently. And they're still eager to help out wherever they are able. Bonus!
See below for an age-appropriate chore list for children 4 years to 5 years:
In Their Room
Choose clothes and get dressed/undressed.
Make the bed and clean their room.
Pick up toys and put in proper place.
Put dirty clothes into clothes hamper.
The Rest of the House
Brush hair.
Brush teeth (let them attempt on their own first – you will want to supervise or at least check teeth afterward – especially back teeth!)
Carrying and putting away groceries.
Clean table after meals.
Clear and set the table.
Dust the furniture.
Feed the pets at scheduled times.
Hang socks, handkerchiefs, and washcloths on a low line.
Help do the dishes (rinse items or put dishes in the dishwasher).
Help mom to prepare plates of food for the family dinner.
Help out in cooking and preparing food – with adult supervision.
Help set the table (put utensils, napkins, plates, glasses, and condiments from the fridge on the table).
Help with grocery shopping and compiling a grocery list.
Help with more difficult meal preparations (make frozen juice, crack and scramble eggs, cut with a blunt knife).
Help with younger siblings (bottle feeding, entertain while mom is out of the room, feed/dress toddler siblings).
Hold the hand mixer to whip potatoes or mix up a cake.
Make a simple dessert (add topping to cupcakes, pour the toppings on ice cream).
Make their own sandwich or simple breakfast and clean up.
Polish silver.
Pour own drink.
Prepare cold cereal.
Put away clean clothes (children may still struggle with folding "properly" as this is an emerging skill)
Set out clothes for the next day
Sharpen pencils.
Sort laundry with supervision.
Spread butter on sandwiches.
Take laundry to the laundry room on laundry day.
Take out the garbage.
Tear up lettuce for the salad.
Vacuum/sweep.
Wash hands (without assistance)
In the Yard
Help clean out the car.
Help sweep or rake outside.
Wash and help wax the car.
Water the garden and lawn with help.
Away from Home
Simple help with groceries, such as: putting items in shopping cart, helping put items on the check-out conveyor, handing items to you to be put away at home.
Beginning Etiquette
Make thank you and birthday cards.
Begin dialing and answering the phone.
Also, be sure to check out our Age-Appropriate Chore Lists for other age groups as this list builds upon the ones created for younger age groups.
I've also created a FREE, 15-page Chores Pack which is filled with chores list suggestions for the various age groups. It also contains several different chore chart templates to choose from. You can edit these chore charts online and then print them out. Or print blank copies first and then fill them in by hand. The choice is yours!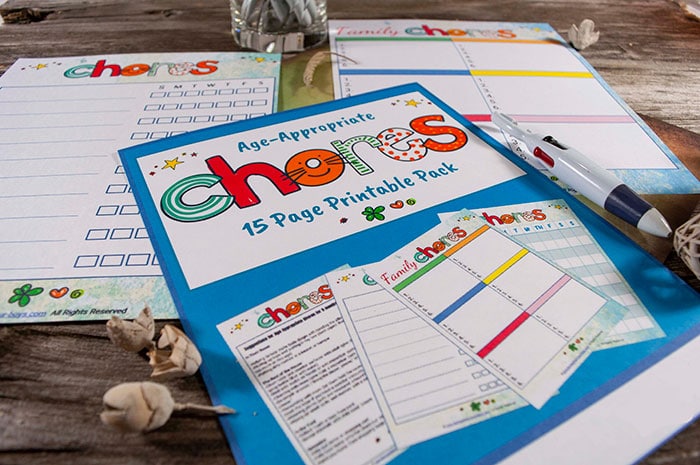 You can receive access to this FREE chore pack by subscribing below.
Question: How about you? What chores have you been able to successfully assign to your child? How has giving your child chores helped to build their character? Please leave a comment below.