Overview: Do want your kids to do chores but aren't sure what tasks your child can handle? Check out this age appropriate chore list for children 6 years to 8 years!
---
Children are even more helpful at this age. You'll really be able to start reaping some of the benefits of having trained your children at this point. You will notice even more independence and ability by the time your kids reach 6-8 years old. Many of them will still enjoy helping out around the house as well. But some will begin putting on the brakes when it comes to doing chores. You may need to get creative with the more reluctant kids.
See the below age-appropriate chore list for children 6 years to 8 years:
In Their Room
Clean room
Dress on their own and choose an outfit for the day.
Hang up own clothes in the closet.
Make bed/change sheets (without assistance)
The Rest of the House
Care for his own minor injuries.
Carry in the grocery sacks.
Clean bathrooms (bathtub, sink, and counters).
Do simple ironing with supervision.
Fold and put away laundry.
Help hang clothes on the clothesline.
Help make breakfast and lunch
Increased responsibilities for younger siblings (dressing infants/toddlers, entertaining them for longer periods by reading to them/playing records, etc., helping school them).
Keep the garbage container clean.
Leave the bathroom in order.
Make and pour own drink, get own condiments, etc.
Prepare simple foods (sandwiches, salad, peel vegetables).
Shake rugs.
Simple help with younger siblings (changing diapers, watching him/her while mom showers, helping with bath)
Simple meals prepared (making sandwiches for lunch, preparing drinks, fixing breakfast for mom and dad, preparing a salad for dinner, peel vegetables).
Straighten or clean out silverware drawer.
Take care of pets.
Take out the trash.
Train pets.
Use the washer and dryer (sort, measure detergent, fold clean clothes and put away.)
Vacuum, sweep, and mop.
Wash dishes with help from mommy
Wash dog or cat.
Water plants and flowers.
→ Related Content: 10 Simple Chore Tips that will Transform Your Family
In the Yard
Clean out inside of the car.
Gather wood for the fireplace.
Learning the purpose and beginning usage of tools (lawn mower, hand tools, etc.) and helping with home maintenance.
Oil and care for a bike.
Pull weeds.
Rake leaves.
Shovel snow.
Sweep patio/deck area.
Take the pet for a walk.
Water the lawn.
Away from Home
Carry own lunch money and notes back to school.
Run errands for parents.
Beginning Etiquette
Answer the telephone and begin to dial the phone.
Pay for small purchases.
Take phone messages.
Also, be sure to check out our Age-Appropriate Chore Lists for other age groups as this list builds upon the ones created for younger age groups.
I've also created a FREE, 15-page Chores Pack which is filled with chores list suggestions for the various age groups. It also contains several different chore chart templates to choose from. You can edit these chore charts online and then print them out. Or print blank copies first and then fill them in by hand. The choice is yours!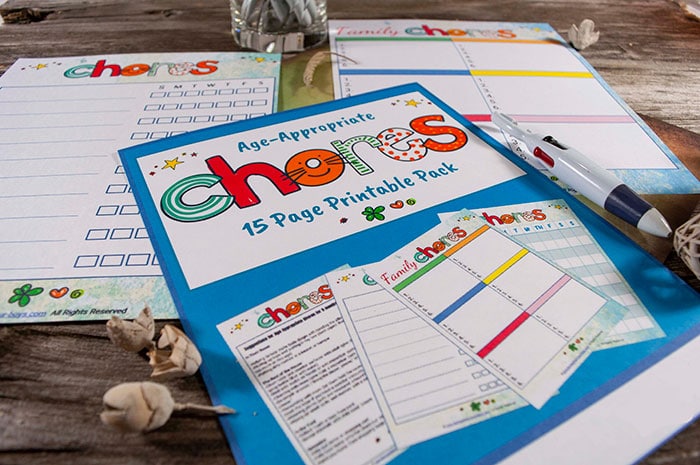 You can receive access to this FREE chore pack by subscribing below.
Question: How about you? What chores have you been able to give your child? How has giving your child chores helped to build their character? Please leave a comment below.