Note: Some of the links in this post may be affiliate links. This means if you click on the link and purchase an item, I will receive a commission at
no additional cost
to you. More details are
here
.
Overview: Do want your kids to do chores but aren't sure what your child could handle? Check out this age appropriate chore list for children 13 years to 17 years!
---
At this point in your child's development, they have reached their young adult years. If you have been training them well, they will basically be ready to leave the house in a few short years and be able to take care of themselves.
During this time, focus on tasks that you have missed in their younger years. And give your child as much responsibility as possible so that it will be an easy transition for them when they are actually on their own.
See the below age-appropriate chore list for children 13 years to 17 years:
At Home
All parts of the laundry.
Bake cookies and cakes.
Change light bulbs.
Clean out the refrigerator and other kitchen appliances.
Iron clothes.
Prepare grocery lists.
Replace light bulbs and vacuum cleaner bags.
Responsibility for preparing family meals.
Wash inside and outside of windows
Related Content: 10 Areas of Essential Life Skills for Teenage Boys
Away from Home
Baby-sit neighborhood kids
Buy groceries using a list and learn comparative shopping.
Earn income doing chores for neighbors.
Also, be sure to check out our Age-Appropriate Chore Lists for other age groups as this list builds upon the ones created for younger age groups.
I've also created a FREE, 15-page Chores Pack which is filled with chores list suggestions for the various age groups. It also contains several different chore chart templates to choose from. You can edit these chore charts online and then print them out. Or print blank copies first and then fill them in by hand. The choice is yours!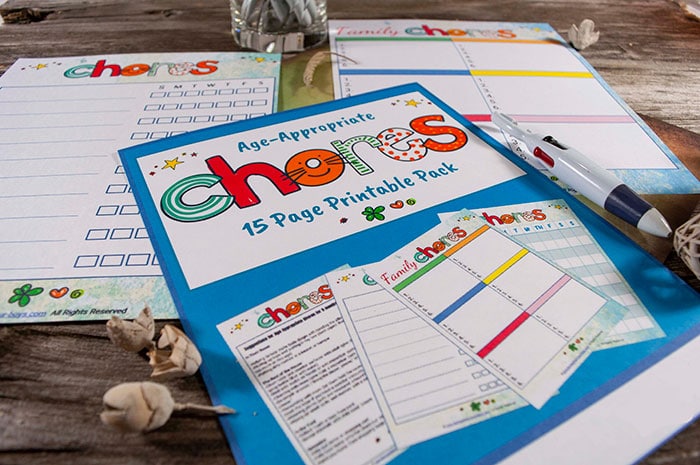 You can receive access to this FREE chore pack by subscribing below.
Question: How about you? What types of chores have your teens been able to successfully tackle?  How has giving your child chores helped to build their character?  Please leave a comment below.